The baroque music ensemble 'Prattica Terza'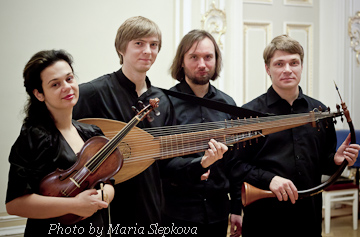 The ensemble Prattica Terza was established in 2007 in Saint Petersburg, Russia by Georgy Blagodatov. Its activity is focused on the Western European chamber music of later Renaissance and Baroque (1580-1750). Group members adhere to the principles of historically informed (authentic) performance (HIP). They use period instruments or their exact copies as well as all stylistic guidelines of the corresponding time. 'Prattica Terza' presents programmes of music written for voice and for rare instruments, such as viola d'amore, flûte traversière, baroque violin, natural trumpet, viola da gamba, baroque oboe, harpsichord, organ.
Long-time experience, tastes they share, and deep love to the sublime baroque music let these performers build rich artistic plans that attract broad audience and colleagues. Most of the best musicians, who play early music in Russia, join us in our programmes. Among them: Alexander Kiskachi (flute), Sergey Filchenko (violin), Nazar Kozhuhar' (violin), Dmitry Sokolov (cello), Grigory Voskoboynik (double bass), Denis Bystrov (historical oboe). 'Prattica Terza' also get young talanted musicians and students involved in projects. We share our knowledge and experience with them, and they add new colors to our programmes.
'Prattica Terza' constantly plays concerts at the best halls as a group of 3 to 9 performers, or even as a large band of upto 45 performers, both vocalists & instrumentalists. We participate in the most outstanding events, e. g. EARLYMUSIC & The International Choir festivals.
In 2010-2012 we organized the concert series of the baroque music in the Palace of G. Derzhavin, Tavrichesky Palace, and in The Bastion of Emperor Paul I of Russia.
In 2011, 'Prattica Terza' established a non-profit organization to support our new projects. The main one is Open Academies of the baroque music in Saint Petersburg. We created the Baroque opera studio.
Download the text about us in the Adobe PDF format.
---
Georgy Blagodatov — harpsichord, organ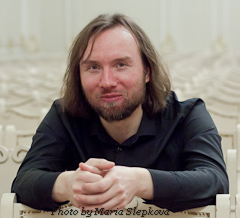 Georgy studied piano with Pavel Egorov, organ with Grigory Varshavsky, harpsichord with Irina Shneerova, carillon with Joseph William Haazen. Georgy has graduated with a Master's Degree from the chair of organ, harpsichord, and carillon of Saint Petersburg State University.
Besides his activity as a performer, Georgy also makes research in the field of early music, writes articles. He has translated into Russian the treatise on music by John Playford.
Georgy participated in numerous master-classes and academies in Russia, Germany, and Finland, with Bob van Asperen, Wolfgang Zerer, Arvid Gast, Franz Danksagmüller, André Isoir, Jon Laukvik, Marie Leonhardt.
In 2007 Georgy has founded the 'Prattica Terza' ensemble. In 2010 together with Andrey Reshetin launched the project of early music concert series in Tavrichesky Palace.
Since 2011 he is named the director of non-profit organization Prattica Terza and an artistic director of Open academies of the baroque music in Saint Petersburg.
---
Recordings
Some sample recordings, all live:
Video by Dmitry Vologdin
---
Sample programmes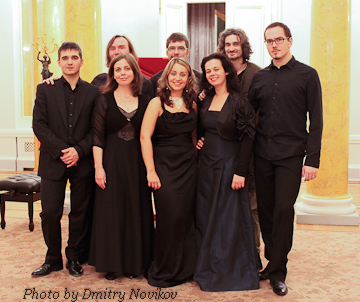 Here you can find three sample programmes, ca. 1 hour length each. Four or five performers (soprano, 1-2 violins, harpsichord/organ, and cello) are needed for them. We can also mix them, or make special programmes for specific church holidays, make them shorter or larger.
MEIN HERZ IST BEREIT
German church music of the 17th century for soprano, 2 violins, and basso continuo
Heinrich Ignaz Franz von BIBER (ca. 1644-1704): Sonata I " Verkündigung" für Violino & basso continuo aus 'Rosenkranz Sonaten'
Heinrich SCHÜTZ (1585-1672): Klein geistliche Konzert «Eile mich Gott zu erretten»
Heinrich Ignaz Franz von BIBER: Sonata IV in D aus "Sonatae violino solo"
Andreas HAMMERSCHMIDT (ca. 1611-1675): "Es danken dir, Gott, die Völker" aus "Musikalische Andachten", III – 1642
Nicolaus BRUHNS (1665-1697): Sinfonia für Violino aus Kantate "Mein Herz ist bereit"
Philipp Friedrich BODDECKERS (1607-1683): Weihnachts-Konzert 'Natus est Jesus' aus der 'Partitura sacra' – 1651
Heinrich Ignaz Franz von BIBER: Partia VI in D für 2 Violinen & basso continuo aus 'Harmonia artificioso-ariosa'
Dieterich BUXTEHUDE (1637-1707): Geistliche Kantate «Herr, wenn ich nur Dich hab» BuxWV 38
Heinrich SCHÜTZ: Geistliche Konzert «Mein Herz ist bereit» aus "Symphoniae sacrae II"
SEICENTO
Italian church music of the 17th century for soprano, violin, and basso continuo
Biagio MARINI (ca. 1594-1663): Sonata Quarta in a, per il violino per sonar con due corde & basso continuo
Giacomo CARISSIMI (1604-1674): Arietta "Incipite in tympanis" from the oratorio "Jephte" (the Book of Judges)
Giovanni Antonio PANDOLFI MEALLI (ca. 1630-1670): Sonata Seconda «La CESTA", op. III per violino & basso continuo
Giovanni Paolo CIMA (ca. 1570-1630): Concerto ecclesiastico «O Sacrum» in ecco – Milano 1610
Giacomo CARISSIMI: Lamento "Plorate colles, dolete montes" from the oratorio "Jephte"
Arcangelo CORELLI (1653-1713): Sonata XII "Follia", op. V per violino & basso continuo
Tarquinio MERULA (ca. 1594-1665): Concerto ecclesiastico «Gaudeamus Omnes In Domino»
DIAMONDS OF BAROQUE
Music of the 17th and 18th centuries for soprano, viola d'amore, and basso continuo
Antonio VIVALDI (1678-1741): "Gloria Patri" – "Nisi Dominus" RV 608
Georg Philipp TELEMANN (1681-1767): Aria "Raset, brüllt…" aus geistliche Kantate "Dominica Jubilate"
Attilio ARIOSTI (ca. 1666-1729): Sonata IX in f per viola d'amore & basso continuo
Johann Sebastian BACH: Aria "Höchster, mache deine Güte" aus geistliche Kantate "Jauchzet Gott in allen Landen" BWV 51
Attilio ARIOSTI: Sonata XIII per viola d'amore & basso continuo
Georg Friedrich HÄNDEL (1685-1759): Aria "I know that my Redeemer liveth" 3.1 from oratorio "Messiah"
Antonio VIVALDI: Aria VI "Domine Deus" – Gloria RV 589
Attilio ARIOSTI: Cantata per soprano
---
Agency of cultural initiatives PRATTICA TERZA
Non-profit organization "Agency of cultural initiatives PRATTICA TERZA" is organized by the participants of the early music ensemble Prattica Terza. This ensemble has been established in 2007 in Saint Petersburg, Russia. Since that time we have done numerous programmes with rare (in Russia) historical instruments, such as flauto traverso, natural trumpet, viola da gamba, baroque violin, harpsichord, authentic vocal etc.
The ensemble participates in the key music events in the city: the EARLYMUSIC Festival, The International Choir Festival, and so on. Prattica Terza assisted in management and also organized on its own master-classes of prominent musicians.
Director: Georgy Blagodatov.
---
Open Academies of Baroque Music in Saint Petersburg
Synopsis
NPO "Agency of cultural initiatives PRATTICA TERZA" offers the idea to establish regular series of academies in the field of authentic performance of the baroque music in Saint Petersburg, Russia.
Targets to be reached by fulfilling the project
To provide students and young performers with the top-level education for authentic (historically informed) performance.
To provide young Russian musicians with opportunities to establish professional career in their own country.
To provide a permanent support for the authentic/historically informed performance as a field in the contemporary art practice.
To fulfill demands of the early music audience, to expand and to educate it.
The format
Each academy consists of:
a lecture (if maestro would like to give one),
series of master-classes (with active and passive participation),
concert of the participants of the master-classes,
rehearsals and concert of the maestro together with the chamber ensemble "Prattica Terza",
optional: supplementary practical studies for some related topics.
Features
The key feature of the project is its regularity. If we manage to hold academies with the participation of the same maestro (e. g., he or she teaches the same students several times a year), then the school will appear here in Russia, and the professional results and possibilities will be much extended.
Master-classes are to be organized during the entire week, for several hours per day. There are 2 types of participation: active, passive.
Active participation: a participant declares what he/she is going to play in advance (this choice should be checked with organizers and the maestro); during master-classes the maestro works with the student playing this piece (at least 2 lessons) publicly so other participants can hear him; then, the participant must perform this piece at the concert of all participants; the active participation must be paid.
Passive participation: a participant is granted with the possibility to listen to others, to participate in discussions etc., with no right for a private lesson and/or participation in the concert; the passive participation is for free.
Concert of participants is held at the same place as lectures and master-classes, or at some concert hall of Saint Petersburg. Admission free.
The final concert of an Academy should be held in one of the very best chamber halls of Saint Petersburg. The maestro plays solo and/or with the baroque chamber ensemble "Prattica Terza". Tickets are sold via city networks. For active participants and volunteers – admission free.
The first Open Academy has been held on 10-15th of March, 2012 with prof. Bob van Asperen (harpsichord, Holland).
---
Baroque Opera Studio in 2012-2013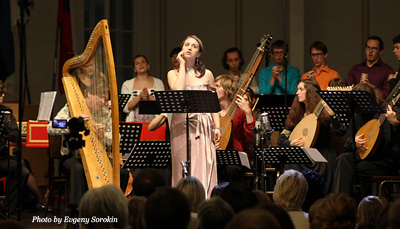 Since 30th of August to 5th of September 2012 the non-profit organization Prattica Terza held the Second Open Academy of the baroque music in Saint Petersburg with a great success and resonance. Its results included not only an intensive educational course and a impressive concert, but also creation of a long-term Baroque Opera Studio, which is intended for staging operas of the baroque era.
The Second Open Academy was organised in cooperation with the Colledge of Music (named after N. A. Rimsky-Korsakov), the Jaani Kirik concert hall (Eesti Concert), and the International EARLYMUSIC festival.
The programme of the Second Open Academy named "The birth of the opera" has been built with the music of great Italians, who we admire as creators of opera, intermezzo fiorentino, and oratorio: E. Cavalieri, G. Carissimi, C. Monteverdi, C. Malvezzi.
During our Academy we started the long-term cooperation with
Alta Capella (Moscow) – the ensemble of wind instruments from the Renaissance & Baroque eras, the first and only in Russia, est. 2009. They use historical instruments only: sackbuts, slide trumpet, zinks, shawms, bombards, dulcians etc. Artistic director – Ivan Velikanov.
Festino (Saint Petersburg) – the first vocal ensemble in the city which performs early music only. Since its foundation they have presented numerous programmes of the music by composers from Italy, Spain, and Germany. Artistic director – Alexandra Makarova.
Project targets
The main target is to establish an opera studio for teaching students and young specialists the art of performing instrumental and vocal music of the baroque era, as well as stage blocking, gesture etc. in authentic stagings of early operas at the level of the highest international professional standards.
Education
Each session will combine a public concert, educational course for participants, and research by the project leaders.
The series of lectures, master-classes, and workshops are vital components of the project. They explain historical and stylistic background, provide participants with practical skills.
Last not least is a seminar for students and project leaders to discuss topics touched in the session and ideas on further sessions of the Studio.
International partnership
The Studio intends to expand all key aspects of staging the baroque opera, such as historical musicology, historical acting and gestures, fencing, studies of the period sources, organology, etc.
The international cooperation is planned for cultural exchange with foreign partners, for invitation of additional specialists and tutors, for creating additional elements of the staging work (new editions of the scores, video reports, dance and ballet etc.) Partnership can involve conservatoires, universities, libraries, and other organisations across the Europe, Baltic, and other regions.
Reports on the Studio sessions will be presented at the international conferences on early music, opera, and historical actor's craft. New research results from these conferences will be used in future sessions.
Participants
Active participants are invited to fill out the application form published on the web site www.pratticaterza.ru and send it to organizers. They are required to send a sample recording with live performance of some baroque piece and can be asked to come to an audition.
We also invite many experienced local musicians to work together in the production.
Passive listeners are welcome for free. The Studio is open for advanced students who specialize on the early opera in any sense (music, staging, history, literature, research, etc.)
We are convinced that participation in Studio sessions brings invaluable performing experience and unique educational opportunity. For all participants we issue specially designed certificates in English (see picture). We hope that soon it will be recognized by the world leading groups which work with early opera: Utrecht Oude Muziek Festival (Netherlands), Boston Early Music Festival (U. S.) and others.
Chronology
Opera as a genre was invented in Italy, where it developed from the musical dramas composed by musicians of early 17th century: Cavalieri, Peri, Caccini, Monteverdi, etc. The earliest operas, that are a part of the repertoire of some theatres nowadays, were composed by Cavalli and Monteverdi.
During the second half of 17th century Lully established opera in France, where it deeply interfered with dance and literature.
Original Spanish opera was cultivated in Spain and Latin America in the second half of 17th century under leadership of Juan Hidalgo de Polanco, composer and harpist. In England, operas by John Blow and Henry Purcell united features of the Italian, French, and English styles. The new style of Italian opera which consisted of alternating arias and recitatives soon became popular all over Europe known as opera seria.
Reforms initiated by C. W. Gluck ended the era of and of baroque musical theatre, making way for operas by Mozart.
Our repertoire
The following are key requirements we consider while selecting the œuvre for our sessions of the Baroque Opera Studio:
its music is excellent, no world-known staging of it exists (made by W. Christie, M. Minkowski, R. Jacobs, H. Niquet, and other directors), making it unknown to wide audience, we will follow the chronology described above with growing complexity of the pieces.
At next sessions we can take music by Landi, Monteverdi, Purcell, Lully.
Key values
We are going to achieve the highest artistic standards of historical performance and theatrical staging.
For early Italian operas, we rely on the priorities fixed by G. Caccini in his treatise on music. In the 17th century there was a tradition that the leader directed his orchestra while playing his instrument (usually, violin, harpsichord, or viola). So do we.
For this theatrical music, gestures are of a high importance. Our intension is to use the approach to gestures and actor's craft in general described in the manuscript 'Il Corago' dated beginning of 17th century.
---
Contact information
Non-profit organization "PRATTICA TERZA"
Registration No. 1117800016861
TIN 7838290244
Web site: www.pratticaterza.ru
Email: info@pratticaterza.ru
Saint Petersburg, Russia